Title on all wine passes to the buyer at the time of purchase in the state of California. If you require that your wine be shipped, you authorize Bay Grape LLC to engage a common carrier to deliver the wine on your behalf. IF YOU CHOOSE TO SHIP YOUR WINE TO A NON-RECIPROCAL STATE, YOU ASSUME ALL RESPONSIBILITY FOR COMPLYING WITH YOUR STATE'S LAWS REGARDING ALCOHOL SHIPMENTS.
You must be 21 years of age to order or receive alcoholic beverages from Bay Grape LLC. Any shipments containing alcoholic beverages are sent with an "Adult Signature Required" sticker, and the common carrier that delivers our merchandise is required to ask and check for identification upon delivery. This means that you will have to be present at the time of delivery.
Because we have no control over the temperature conditions at any 3rd party carriers' warehouses, we always attempt to deliver wines to our 3rd party carrier at the beginning of each week so that you can receive your wine before the weekend. As a result, your wine may not be delivered to our 3rd party carrier the day that you place your order. Please understand that during business hours, your orders are immediately packaged and scheduled for delivery, but may be delayed until ideal conditions for shipment arise. You are reminded that various states impose limitations on the quantity of alcoholic beverages which may be purchased and brought into their jurisdiction without requiring the purchaser, the seller or the shipper to possess certain licenses or permits. Bay Grape LLC does NOT, as a condition of sale, assume any obligation nor bear any responsibility whatsoever for applying for or obtaining any such permits or licenses. Therefore, you are strongly advised to investigate such limitations and to determine the manner in which alcoholic beverages may lawfully be brought into states other than California. You are responsible for all applicable excise, use and sales taxes due to your state related to the purchase of any taxable goods.
Bay Grape LLC makes no representation to the legal rights of anyone to ship or import wines into any state outside of California. The Buyer is solely responsible for the shipment of wines and is responsible for any loss or damage to goods once they have left our premises. By placing an order, you authorize Bay Grape LLC to act on your behalf to engage a common carrier to deliver your order to you.
Personality Quiz Gift Box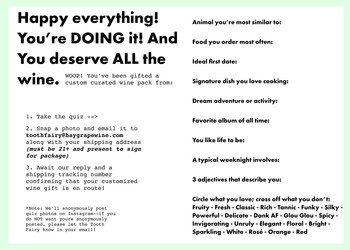 Send our signature "So. Much. JOY." greeting card and bespoke wine package to your recipient. Because after all they've been through, they deserve ALL the wine!!

HOW IT WORKS:
You order the gift here, inputting your recipient's mailing address in the "ship-to" field. We snail-mail a physical greeting card with quiz (please leave a note in your order if you'd prefer us to email the quiz to them). Upon receipt of the card, your recipient completes our Personality Quiz and emails us back their answers. Based on their responses, we custom build and ship a personalized three-bottle wine pack to them, ensuring a little liquid happiness.

IMPORTANT NOTES:
We mail greeting cards to the shipping address listed in your order, with your (the sender's or biller's) "from" name and address. Please be very very very careful to input accurate name, address and email address. By placing your order you agree you are responsible for providing accurate information, and we are unable to send out duplicate cards or re-send lost cards or wine packages due to incorrect addresses.

We'll follow up with your recipient over email two weeks after sending the physical greeting card, to ensure they received it and follow-up on their quiz reply.

All wine gift shipments are coordinated directly with the recipient and include three custom-curated bottles with a retail value of up to $75. Shipping and handling charges cover greeting card and postage, shipping anywhere in the US, and our dedicated, wine-soaked, very special elfin handling.