Title on all wine passes to the buyer at the time of purchase in the state of California. If you require that your wine be shipped, you authorize Bay Grape LLC to engage a common carrier to deliver the wine on your behalf. IF YOU CHOOSE TO SHIP YOUR WINE TO A NON-RECIPROCAL STATE, YOU ASSUME ALL RESPONSIBILITY FOR COMPLYING WITH YOUR STATE'S LAWS REGARDING ALCOHOL SHIPMENTS.
You must be 21 years of age to order or receive alcoholic beverages from Bay Grape LLC. Any shipments containing alcoholic beverages are sent with an "Adult Signature Required" sticker, and the common carrier that delivers our merchandise is required to ask and check for identification upon delivery. This means that you will have to be present at the time of delivery.
Because we have no control over the temperature conditions at any 3rd party carriers' warehouses, we always attempt to deliver wines to our 3rd party carrier at the beginning of each week so that you can receive your wine before the weekend. As a result, your wine may not be delivered to our 3rd party carrier the day that you place your order. Please understand that during business hours, your orders are immediately packaged and scheduled for delivery, but may be delayed until ideal conditions for shipment arise. You are reminded that various states impose limitations on the quantity of alcoholic beverages which may be purchased and brought into their jurisdiction without requiring the purchaser, the seller or the shipper to possess certain licenses or permits. Bay Grape LLC does NOT, as a condition of sale, assume any obligation nor bear any responsibility whatsoever for applying for or obtaining any such permits or licenses. Therefore, you are strongly advised to investigate such limitations and to determine the manner in which alcoholic beverages may lawfully be brought into states other than California. You are responsible for all applicable excise, use and sales taxes due to your state related to the purchase of any taxable goods.
Bay Grape LLC makes no representation to the legal rights of anyone to ship or import wines into any state outside of California. The Buyer is solely responsible for the shipment of wines and is responsible for any loss or damage to goods once they have left our premises. By placing an order, you authorize Bay Grape LLC to act on your behalf to engage a common carrier to deliver your order to you.
Fritz Haag Brauneberger Juffer Riesling Kabinett Mosel 2021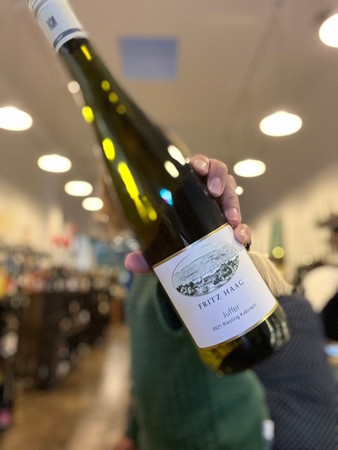 Wilhelm and Oliver Haag are the current proprietors of the eponymous estate that dates back to 1605 (low-key history). This wine comes from the famous Juffer vineyard within the Brauneberg village overlooking the Mosel River. Specifically, the Haag's vineyards are situated on—wait for it—EIGHTY DEGREE INCLINE slate slopes!!! Are you legit buckled up?? Harvesting before the snow sets in also usually means picking the slow-to-ripen grapes when their signature raucous acidity is still masochistically fierce.

After a native yeast fermentation, Oliver Haag cools down the wine to immobilize the yeast, stopping the fermentation with a bit of sugar remaining. That freaky tartness is still coursing through the glass, but now it's buffered by all that soft residual sweetness. The Haags are legends for good reason. and if this balanced bottle of yum is guaranteed to be on our holiday table, we sure think it deserves a place at yours.
Fruit notes: green apple candy, ripe yellow
peach, lemon curd
Non-fruit notes: slate, honeysuckle, petrol
Sweetness: off-dry (medium sweet)
Acidity: high
Alcohol: low
Body: medium plus
Possible Pairings: stuffing and gravy;
Szechuan green beans with shiitakes; musical
theater