Title on all wine passes to the buyer at the time of purchase in the state of California. If you require that your wine be shipped, you authorize Bay Grape LLC to engage a common carrier to deliver the wine on your behalf. IF YOU CHOOSE TO SHIP YOUR WINE TO A NON-RECIPROCAL STATE, YOU ASSUME ALL RESPONSIBILITY FOR COMPLYING WITH YOUR STATE'S LAWS REGARDING ALCOHOL SHIPMENTS.
You must be 21 years of age to order or receive alcoholic beverages from Bay Grape LLC. Any shipments containing alcoholic beverages are sent with an "Adult Signature Required" sticker, and the common carrier that delivers our merchandise is required to ask and check for identification upon delivery. This means that you will have to be present at the time of delivery.
Because we have no control over the temperature conditions at any 3rd party carriers' warehouses, we always attempt to deliver wines to our 3rd party carrier at the beginning of each week so that you can receive your wine before the weekend. As a result, your wine may not be delivered to our 3rd party carrier the day that you place your order. Please understand that during business hours, your orders are immediately packaged and scheduled for delivery, but may be delayed until ideal conditions for shipment arise. You are reminded that various states impose limitations on the quantity of alcoholic beverages which may be purchased and brought into their jurisdiction without requiring the purchaser, the seller or the shipper to possess certain licenses or permits. Bay Grape LLC does NOT, as a condition of sale, assume any obligation nor bear any responsibility whatsoever for applying for or obtaining any such permits or licenses. Therefore, you are strongly advised to investigate such limitations and to determine the manner in which alcoholic beverages may lawfully be brought into states other than California. You are responsible for all applicable excise, use and sales taxes due to your state related to the purchase of any taxable goods.
Bay Grape LLC makes no representation to the legal rights of anyone to ship or import wines into any state outside of California. The Buyer is solely responsible for the shipment of wines and is responsible for any loss or damage to goods once they have left our premises. By placing an order, you authorize Bay Grape LLC to act on your behalf to engage a common carrier to deliver your order to you.
2023 Holiday MIXED CASE!!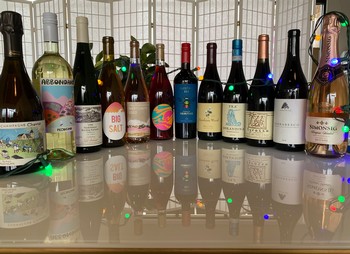 All the wine you need to get you through THE HOLIDAY SEASON, 2023:
First, an acknowledgement of WHAT A YEAR you just punched your way through. We are so proud of you! And while the holidays often become an amped-up crazy time, we also hope this case of wine helps you unwind and toast to all you've accomplished and all the real R&R you deserve right now. If the below occasions are not on your Nov/Dec calendar, feel free to scrap this guide and just enjoy the wines any old time you like. We chose each one for its value, versatility, deliciousness, and ability to bring you good cheer. And then we discounted the whole thing 15% and packed it all up for you. BOOM. Cheers to you!
To welcome guests into your home…
Bubbles that announce it's time to party. With style.
Chavost Blanc d'Assemblage Brut Nature Champagne NV: TRUE Champagne to show your guests that you have mad class. This forward-thinking grower producer's pure and vibrant wines are going viral—and going down easy.
To quench your thirst in between bites of salty, fatty, gravy-covered-everything…
An aged, impressive, off-dry phenom.
Anheuser Niederhauser Riesling Kabinett Nahe 1998: Super honeyed, exotic and deeply mineral all in one perfect package. Just a little off-dry but with big swooshes of acidity, so it wipes your palate clean between each rich bite.
To prevent palate-fatigue as you go back for seconds, then thirds…
Cranberry sauce in a glass—with alcohol.
Wavy Super Californian CA 2022: A funky-fresh, tart, juicy red-fruited blend from a local, minimal-intervention rising star. Don't even worry if you (intentionally?) forgot the cranberry sauce. This'll do the same trick… better.
For branching out…
Gentle-introduction orange wine to show off your broad mind.
Ovum Big Salt Orange Rosé Oregon 2022: If you tell Mom she's drinking a rosé, she'll probably believe you. This horizon-expanding, rosé-like skin-contact white is yummy, aromatic and ideal with stew and cozy company.
For staying in…
Your safe word: Pinot Noir.
Evesham Wood Pinot Noir Willamette Valley 2022: Like a hope-filled favorite holiday film, this softly spicy, perfectly fruity Pinot is guaranteed to restore your soul during this frenetic time of year.
A gift for the hostess with the mostest…
Classy—yet contemporary--sparkly! Just like your host.
Simonsig Cap Classique Rosé Stellenbosch 2019: Ultra-cool, South African sparkling rosé made the same way as Champagne proper but with local variety Pinotage supporting Pinots Noir and Meunier. Such grace! Such shine!
For your boss, like a boss (or for your client, cause you're the boss)…
Pedigreed and prestigious northern Italian baller bottle.
Cantina del Pino Barbaresco 2018: This classed up, built-to-impress Nebbiolo from the A-list appellation of Barbaresco in Piedmont, Italy, is deeply aromatic, powerful and muscled but finishes with extraordinary finesse.
The couch, your iPad, and a list of who's naughty and nice…
A gutsy winter rosé, thoughtful and unexpected.
Stirm Neptunite Rosé San Benito County 2022: A happy, round and ripe rosé to usher in winter? It's everything you love and didn't even know you wanted… like that cute engraved Etsy situation you're gonna "gift" yourself...
To cope with bad company…
XL and affordable crispy white—just keep filling.
Abbondanza Pecorino Colline Pescarese LITER 2022: Yup, it's an all-caps LITER of a minerally-fresh white that screams of the idyllic southern Italian coastline. When the company gets tough, the tough offer refills.
Brisket/chili/leg of lamb/pot of Bolognese/big ol' red meat meal…
Big ol' red wine.
Thalvin Syrocco Syrah Zenata 2020: Syrah—but make it Moroccan! Hell yes to this bold red from an icon French winemaker via northern Africa. It's full and spicy and swoon-worthy, all black olive, peppercorn and lavender.
Winter Solstice (slash: I have three days left to wrap all these bloody presents)…
Dark and spicy red to suit the mooood (fresh enough to keep you awake).
Produttori di Manduria Electric Bee Primitivo Salento 2021: Primitivo is the Italian name for Zinfandel, and this organic Puglian co-op takes all the fruity-rainbow glory of that grape but punches it up with buzzy acidity and palpable vivacity by picking earlier and minimizing their interventions in the cellar.
Something for Santa Baby (or spooning with your sweetheart)…
A pretty, perfumed, warming red.
Pra Morandina Valpolicella 2021: Understated and elegant on the outside; explosive sexy aromatics and a silky yet adamant grip on the inside—just like your lover! This Venetian red only gets more interesting as it opens up.